Nov 9, 2020 09:15 PM Central
Heather Martin
Does your family need an easy carrot recipe? These are easy to make, crock pot friendly, and the best to take to Holiday events, potlucks, or family dinners.
First, you'll want to have 16 ounces or one pound of carrots. The carrots can be fresh, baby carrots, or petite carrots. We prefer to get the fresh carrots and cut them to our liking.
You can put the carrots directly into the crock pot. In a small bowl mix together brown sugar, butter, salt, ginger, and cinnamon.
Pour the mixture into the crockpot and mix well. Turn the crockpot on Low for 6 to 8 hours (checking the tenderness of the carrots—you want them to be pretty soft) or on High setting for 4 to 6 hours.
Ingredients:
16 ounces or 1 pound of carrots

¼ teaspoon of cinnamon

½ teaspoon of

ginger

¼ teaspoon of salt

¼ cup of butter

¼ cup of

brown sugar
How to Make:
Put the baby, petite, or fresh carrots into the crockpot. In a small bowl mix the remaining ingredients (cinnamon, ginger, salt, butter, and brown sugar). Add the mixture to the crockpot and mix well with the carrots. Put the crockpot on Low setting for 6 to 8 hours OR High for 4 to 6 hours—checking to make sure the carrots are soft.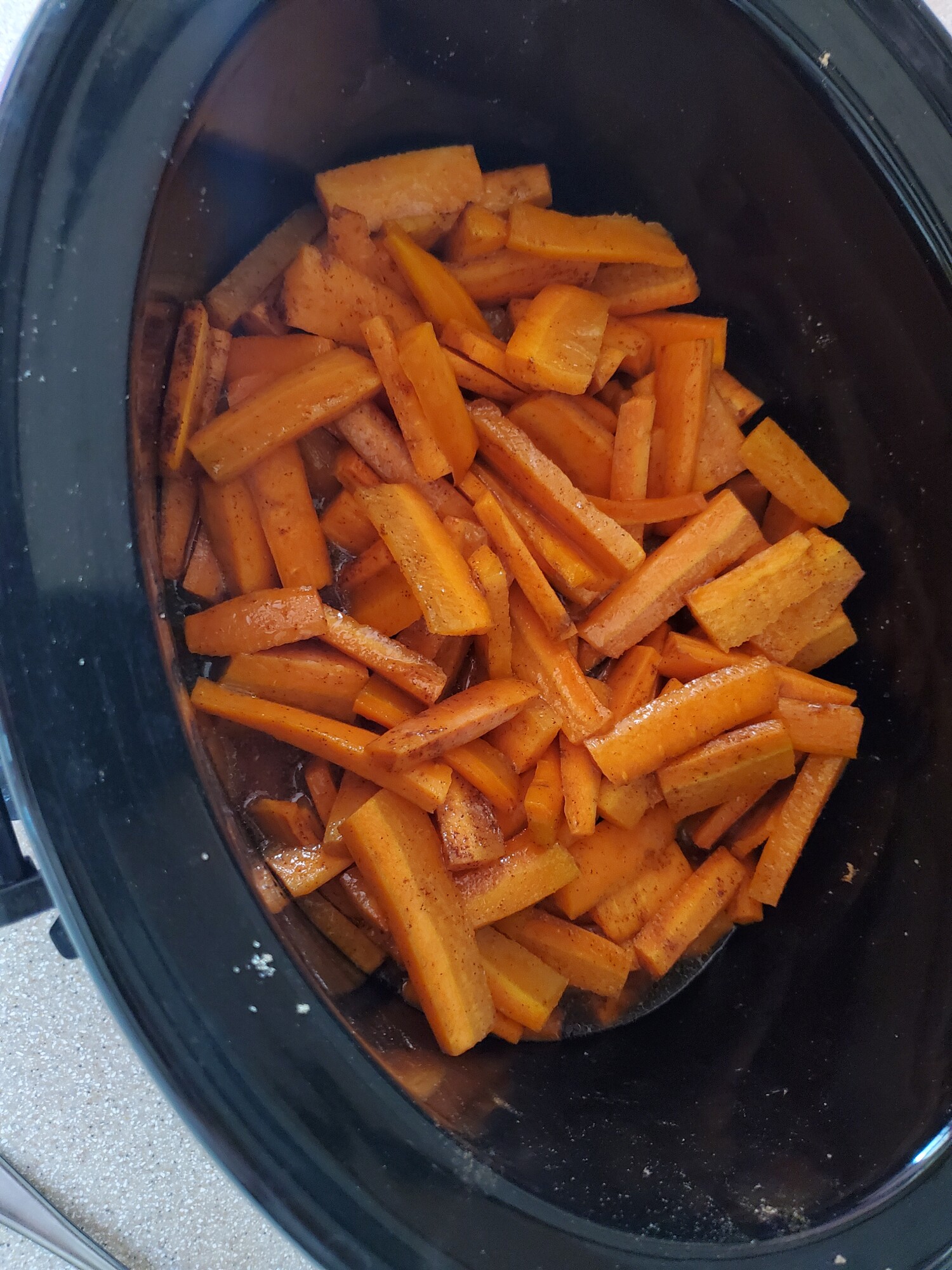 This is a great recipe to make for Thanksgiving or any Holiday event with family. These carrots are also something that my family enjoys so its great to be able to offer these carrots with our dinners for the kids. They seem to devour the carrots whenever they are on their plate.
Enjoy this recipe and how simple it is to create!
Don't forget to follow me on Instagram for more fun ideas and tips.
Check out my FREE Mom Support Community HERE
Withheathermartin is a participant in the Amazon Services LLC Associates Program, an affiliate advertising program designed to provide a means for us to earn fees by linking to Amazon.com and affiliated sites.