Oct 19, 2020 09:02 PM Central
Heather Martin
There are many ways to use your glass jars—saving, swear jars, chore jars, and even correcting behavior. Now, I'm not only talking about correcting your child's behavior… but you can correct your behavior as well.
Is there something you say that you wish you would stop saying but you just can't? Is there something you are doing that you want to stop but you just can't? These things could be habit-like OR maybe they are things you grew up seeing and hearing your parents do – this makes it even more difficult to stop!
First things first, think of one or two things that you do as a parent that you wish to stop saying or doing to your children. My two things to start correct are yelling and saying the word "naughty". Now remember this is a no judgement zone as we all have things that we need to work on… no one is perfect!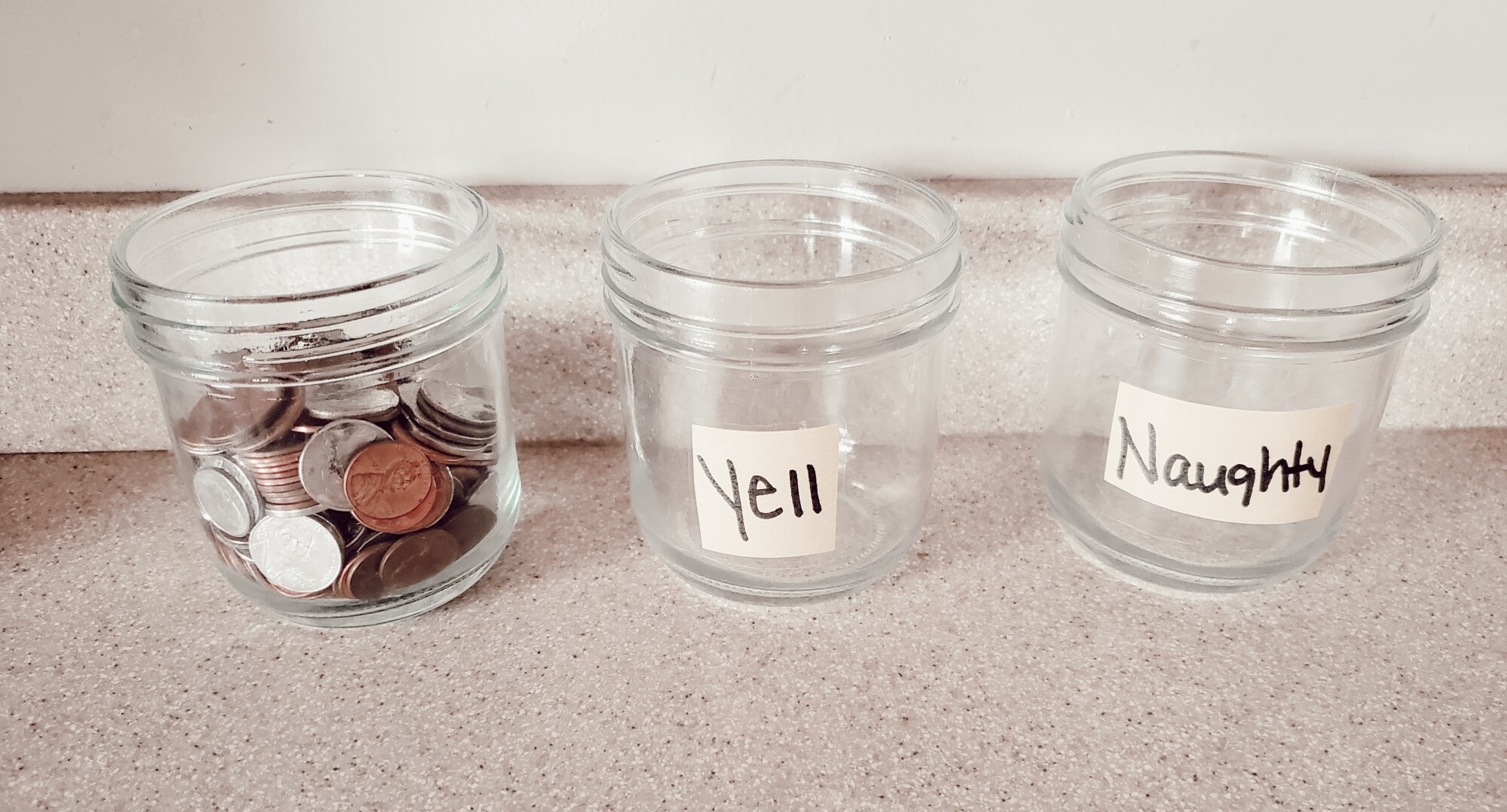 When correcting a behavior, usually it is easier to have an accountability partner to make sure you stay on track. So, make sure to tell your spouse or any other adult in the home with you. If this is something they need to work on as well, then it makes it even better. You want to stay consistent with parenting behaviors around your child(ren).
Grab as many glass jars as behaviors you want to change. (I suggest starting small with one or two behaviors—if you get too many then it will get difficult and you'll give up quicker). Since I have two behaviors, then I have two glass jars. Write on the jar what the behavior is that you want to change or correct.
I also had another jar to put my money into. Before you begin, (depending on your child's age) you can wrap them into it as well. Sit them down and explain to them what you are doing and why. This is great because it also shows your children that you are not perfect either, that we are always trying to better ourselves and sometimes we need to correct behaviors as well. --- They may also notice the behavior and help you out (being another accountability partner).
When you begin, you have the mindset of wanting to change this behavior and you are all in!
Now that you are ready… every time you do that behavior or say the word/phrase that you don't want to anymore, then place a coin into the corresponding jar. At the end of the day, look at the jar. It is very eye-opening when you notice how many coins are in the jar. Not only that, BUUUTTT to make it more fun and interesting… now give those coins to your children to put in their piggie banks. Doing this should help you be more conscious of your actions and behaviors as you want to keep the money for yourself and not give it to your children.
Some of you may say that you don't care if your child gets your coins, but keep in mind that we are trying to correct a behavior. Your mindset should be wanting and willing to correct this and not blowing your money because you don't care about changing that behavior.
You don't want to miss out on more activities so Follow me on Instagram!
I have this amazing mom's group where we share fun ideas, support, and giveaways! –Join Here
Withheathermartin is a participant in the Amazon Services LLC Associates Program, an affiliate advertising program designed to provide a means for us to earn fees by linking to Amazon.com and affiliated sites. Withheathermartin is a participant in Rakuten Affiliate Program as well.